5/13/21 -- Born With It: Does God Will It? Part 2 of 3
STOSS Books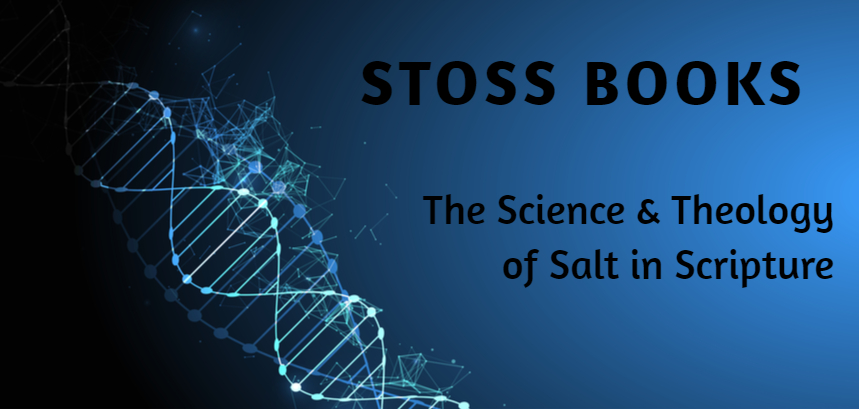 If Born With It, Does That Mean God Wills It?
The Tree, the Fruit, and the Seed
Some may artificially limit the scope of the interpretation of this passage from Matthew. They may view it as a mere symbol of our works' good or bad consequence
s —
having nothing to do with the science of our biology. In other words, the fruit represents, for example, the charitable work of contributing money to a cancer foundation, which leads to a quicker cure for cancer.
As one created in the image and likeness of the Trinity, man can neither know nor understand himself without first gaining a deeper understanding of the Trinity. Nowhere in Scripture does it say he created man in the image and likeness of God —
except for our bodies
. The opposite is true. In Genesis, we read, "So God created man in his own image, in the image of God he created him; male and female he created them" (Gen. 1:27). The fruitfulness that occurs in the procreative process requires a body. Procreative fruitfulness is the very first positive command that God gave to our First Parents and, therefore, all of us.
Man is created in the image and likeness of God. From God's answer to Moses' question, "who shall I say sent me" in Exodus 3:14, we know that being in the image and likeness of God
requires
openness to procreative fruitfulness, barring substantial mitigating circumstances. It is unlikely that angels are fruitful in the same manner as man. I am not aware of any Magisterial document that asserts one angel can beget or has begotten another angel.
So, let us paraphrase and expand on Matthew's passage about the tree and its fruit. Let us start with apple tree [A-1]. An apple [A-2] growing within tree [A-1] is, in general, an accurate genetic reproduction of the quality of tree [A-1]. Likewise, seed [A-3] that grows within apple [A-2] is an accurate genetic reproduction of apple [A-2], which is an accurate genetic reproduction of tree [A-1]. When apple [A-2] falls to the ground, the DNA located within seed [A-3] executes the genetic instructions through which tree [B-1] is built in the image and likeness of tree [A-1], apple [A-2], and seed [A-3]. Then the process repeats.
Third and Fourth Generation
So now we will look at some Scripture passages and other writings, which serve to validate my interpretation of Mt. 12:33 above.


1.

"You shall not make for yourself a graven image, or any likeness of anything that is in heaven above, or that is in the earth beneath, or that is in the water under the earth; you shall not bow down to them or serve them; for I the LORD your God am a jealous God, visiting the iniquity of the fathers upon the children to the third and the fourth generation of those who hate me" (Ex. 20:4–5);
2. "The LORD passed before him, and proclaimed, "The LORD, the LORD, a God merciful and gracious, slow to anger, and abounding in steadfast love and faithfulness, keeping steadfast love for thousands, forgiving iniquity and transgression and sin, but who will by no means clear the guilty, visiting the iniquity of the fathers upon the children and the children's children, to the third and the fourth generation" (Ex. 34:6–7). The same warnings exist in Numbers 14:18 and Deuteronomy 5:9. We have already provided examples where the parents' behaviors can cause heritable changes in subsequent generations of their offspring through the effects of epigenetic mechanisms. A team of scientists from the Max Planck Institute of Developmental Biology in Germany has determined that genetic changes occurring due to epigenetic influence are usually short-term, lasting for only a few generations.

[10]

That is so because they are not the result of hardwired DNA mutations of DNA sequencing. Once again, we see that Scripture is an advanced applied sciences book;
3. "In those days they shall no longer say: 'The fathers have eaten sour grapes, and the children's teeth are set on edge'" (Jer. 31:29);

4. "Do not be deceived, God is not mocked; for whatever a man sows, this he will also reap. For the one who sows to his own flesh will from the flesh reap corruption, but the one who sows to the Spirit will from the Spirit reap eternal life" (Gal. 6:7–8);
5. "The children of sinners are abominable children, and they frequent the haunts of the ungodly. The inheritance of the children of sinners will perish, and on their posterity will be a perpetual reproach. Children will blame an ungodly father, for they suffer reproach because of him" (Eccl. 41:5–7); and,
6. "For the fruit of good labors is renowned, and the root of understanding does not fail. But children of adulterers will not come to maturity, and the offspring of an unlawful union will perish" (

Wis.

3:15–16).
1. "[W]hen [Adam and Eve] knew they could sin, they discovered sin's sweetness. And in this way, turning My rightful institution into sinful lust, although they should have known that the commotion in their veins [

remember that hormones are transmitted in the blood — SML

] was not for the sweetness of sin but for the love of children, by the Devil's suggestion they changed it to lechery; and, losing the innocence of the act of begetting, they yielded it to sin … [and the Devil] said,

'My strength is in human conception

[

through lust — SML

]

, and therefore humanity is mine! [SML]

'"

[11]
2. In a vision given to St. Hildegard, God explains that people's behaviors (good or bad) will affect the

quality

of the seed they produce, which will, in turn, negatively or positively impact the children they beget. He tells her, "[S]trong semen, which is usefully and well matured and tempered, produces energetic people, to whom brilliant spiritual and bodily gifts are given by their great and noble ancestors, making them flourish in prudence, discretion and usefulness in their works before God and Man, and the Devil finds no place in them…. [weak] semen, imperfectly matured and tempered in a weak season, produces weak people, who are for the most part foolish, languid and useless in their works … one part is mixed with corruption, basely emitted in weakness and confusion and mixed uselessly, and it produces misshapen people, who often have bitterness, adversity and oppression of heart and are thus unable to raise their minds to higher things."

[12]

These words make perfect sense. In his pre–fallen Original Justice, man was created perfectly — without any defect or disorder. Through Satan, we lost all supernatural grace; sin entered into the world. All death, disorder, and sickness stem from man's fallen and disordered state (see #1 above).
4. "And because it was from the pure Virgin that My Son took on flesh without sin, it is fitting that His flesh should now be made from that fruit which is without the sap [semen] of bitterness. How? The grain of wheat is the strongest and best of all the fruits there are; it has in its stalk no sap or pith like other trees, but its stem rises to a spike that leads to the fruit, and it never produces bitter juice either in heat or in cold, but yields dry flour. So too the flesh of My Son was dry, with no filth of the human pollution that produces the human race through the lustful embraces of a man and a woman."

[14]
BEIRBO Revisited
We talked about BEIRBO extensively in
Part One
of this blog series. The current section will be a recapitulation (in this particular case, of
biogenetic law
or
embryological parallelism
) of the first, but with additional information added.
Covenants, most especially covenants of salt (involving the salt of DNA), are that which God entered into with man as a means of accomplishing the economy of salvation. Such covenants directly apply to the body in conjunction with the soul. Covenants of Salt are, in my view, a branch of Pope St. John Paul II's
Theology of the Body
. God entered into a covenant of salt with Abraham to preserve and redeem his seed from
irreparable
corruption. The seed is the result of another covenant of salt, entered into by a man and a woman, i.e., sacramental Marriage. This covenant indicates that the salt of DNA is subject to change in both structure and function.
Can the function of DNA change? With scientific certainty, the short answer to this question is yes. As it turns out, God is an infinitely intelligent designer. The instruction manual (aka DNA) written for building and maintaining a body is, metaphorically speaking, written in pencil. Furthermore, he gave us an eraser on the end of that pencil! Why the pencil and eraser?
As was said above, man was created possessing the gift of supernatural grace, i.e., grace that lifts human nature above the
natural
state of a human body and soul composite. By comparison, animals are also a body and soul composite, but not with a rational soul. They do not exist with an elevated supernatural state. In the supernatural state, man's body did not experience the need to adapt to the environment of the "natural world" to survive and thrive. What would the pre–fallen state of
Original Justice
look like for man?
St. Thomas Aquinas wrote, "Now we have it on the authority of Scripture that 'God made man right' (Eccles. 7:30), which rightness, as Augustine says (

De Civ. Dei,

xiv, 11), consists in the perfect subjection of the body [

i.e., salt/dust of DNA — SML

] to the soul."

[16]

Aquinas goes on to show the role that supernatural grace played in our state of Original Justice. He writes, "Subjection of the body to the soul and of the lower powers to reason, was not from nature; otherwise it would have remained after sin … Hence it is clear that also the primitive subjection by virtue of which reason was subject to God, was not a merely natural gift, but a supernatural endowment of grace."

[17]

The body is meant by God's design to be fully and harmoniously subject to the soul.
A perfect body in subjection to a perfect soul, which, in turn, would be inhabited by the Holy Spirit, would encounter absolutely nothing that would require the body to alter its function to survive and thrive.
"[Motovilov asks St. Seraphim,] How can you feel warmth, my son? Look, we are sitting in the forest. It is winter out-of-doors, and snow is underfoot. There is more than an inch of snow on us, and the snowflakes are still falling. What warmth can there be?" I [St. Seraphim] answered: "Such as there is in a bath-house when the water is poured on the stone and the steam rises in clouds. … neither on you nor on me does the snow melt, nor does it underfoot; therefore, this warmth is not in the air but in us. It is that very warmth about which the Holy Spirit in the words of prayer makes us cry to the Lord: "Warm me with the warmth of Thy Holy Spirit!"

[18]
The body of a fallen man lacking supernatural grace must change to survive and thrive. Additionally, the body is the mouth through which the overflow of the human heart is accurately expressed (e.g., Matt 12:30-35, Lk 6:45, Mk 7:21-22, Proverbs 4:23). The human heart, in which the Holy Spirit dwells, is overflowing with the power of that same Holy Spirit.
Let us look at some other reasons why God would design a body with the inherent ability to change. Mindful of his command for man to be fruitful and multiply (which is in effect to this very day), God knew man would eventually populate many different geographical areas of the planet. He knew that we would encounter a multitude of environments and would require a means to cope with these various environmental challenges.
Homosexuality
BEIRBO applies to many different predispositions, which make it easier to succumb to addictive and destructive behaviors. These can be classified as disordered to persons created in the image and likeness of God. However, one, in particular, is highly detrimental to the person and the culture. It relates to SSAs. Based on false logic, the argument used to justify this destructive behavior goes something like this:
I am gay, lesbian, transgendered, etc., because I am genetically created this way. I had no choice in the matter. Because I was born this way, it must be God's will that I am the way that I am. Furthermore, since it is God's will that I am this way, you should accept this behavior as morally acceptable. Who are you to go against God's will and deny me my sexual rights?
Hardware (the Genome) Versus Software (the Epigenome)
Many opponents of the gay and lesbian agenda are hesitant — or downright afraid — to admit that homosexuality may be genetically based. They know in their hearts that God does not make mistakes. To acknowledge that SSA persons were born with that attraction might make it difficult for them to justify the belief that it is against God's will. BEIRBO helps us understand why being "born with it" (while probably true to some degree or another) does not mean that God wills it.
Epigenetic theories of homosexuality concern the studies of changes in gene expression or cellular phenotype

[21]

caused by mechanisms other than changes in the underlying DNA sequence, and their role in the development of homosexuality [

William R. Rice, Friberg, Urban and Sergey Gavrilets. "Homosexuality as a Consequence of Epigenetically Canalized Sexual Development." The Quarterly Review of Biology 87.4 (2012):

PMID

23397798

doi

:

10.1086/668167

], [

Rice WR, Friberg U, Gavrilets S. 2013. Homosexuality via canalized sexual development: A testing protocol for a new epigenetic model. BioEssays 35: 343–368

], [Rice W. R., Friberg U., and Gavrilets S. 2016. Sexually antagonistic epigenetic marks that canalize sexually dimorphic development. Molecular Ecology 12:

https

://

doi

.

org

/

10

.

1111

/

mec

.

13490]. Epigenetics examines the set of chemical reactions that switch parts of the genome on and off at strategic times and locations in the organism's life cycle. However, epigenetic theories tangle a multiplicity of initiating causes and of resulting final effects and will never lead to a single cause or a single result. Hence, any interpretation of such theories may not focus just one isolated reason of a multiplicity of causes or of effects.
Instead of affecting the organism's DNA sequence, non–genetic factors [e.g., methyl groups — SML] may cause the organism's genes to express themselves differently. DNA in the human body is wrapped around histones [see Figure 1 below], which are proteins that package and order DNA into structural units. DNA and histone are covered with chemical tags known as the epigenome [methyl and acetyl groups], which shapes the physical structure of the genome.[Genetic Science Learning Center, "Epigenetics," Learn.Genetics

, July 15, 2013, (accessed March 4, 2021)] It tightly wraps inactive genes on the DNA sequence making those genes unreadable while loosely wrapping active genes making them more expressive [i.e., making

proteins

, which are the chemical messengers used to convey instructions to cells — SML]. The more tightly wrapped the gene, the less it will be expressed in the organism. These epigenetic tags react to stimuli [both behavioral and environmental — SML] presented from the outside world. It adjusts specific genes in the genome to respond to humans' rapidly changing environments. The idea of epigenetics and gene expression has been a theory applied to the origins of homosexuality in humans. One team of researchers examined the effects of epi–marks buffering XX fetuses and XY fetuses from certain androgen exposure and used published data on fetal androgen signaling and gene regulation through non–genetic changes in DNA packaging to develop a new model for homosexuality.[Sabrina Richards, "Can Epigenetics Explain Homosexuality?,"

The Scientist

online version, Jan. 1, 2013]. The researchers found that stronger than average epi–marks, epigenomes that are wrapped tightly around the DNA sequence, convert sexual preference in individuals without altering genitalia or sexual identity ["National Geographic Explains the Biology of Homosexuality."

YouTube

. YouTube, Feb. 04, 2009]. This research gives support to the hypothesis that homosexuality stems from the under expression of certain genes on the DNA sequence involved with sexual preferences. …
Epigenetic marks (epi–marks) are temporary "switches" that control how our genes are expressed during gestation and after birth. Moreover, epi–marks are modifications of histone proteins [Ruthenburg, A., C. Allis, and J. Wysocka. "Methylation of Lysine 4 on Histone H3: Intricacy of Writing and Reading a Single Epigenetic Mark." Molecular Cell 25.1 (2007): 15–30. Print. PMID 17218268 doi:10.1016/j.molcel.2006.12.014]. Epigenetic marks are modifications of the methyl and acetyl groups that bind to DNA histones thereby changing how the proteins function and as a result, alter gene expression [Jablonka E and MJ Lamb (2010). "Transgenerational epigenetic inheritance," In: M Pigliucci and GB Müller Evolution, the expanded synthesis]. Epi–marks change how histones function and, as a result, influence the way genes are expressed.[

William R. Rice, Friberg, Urban and Sergey Gavrilets. "Homosexuality as a Consequence of Epigenetically Canalized Sexual Development

.

"

The Quarterly Review of Biology

87.4 (2012):

PMID

23397798

doi

:

10.1086/668167

] Epigenetic marks promote normal sexual development during fetal development. However, they can be passed on to offspring through the process of mitosis. When the epi–marks transfer from one parent to an offspring of the opposite sex, altered sexual development can result. This transfer, in turn, can lead to masculinization of female offspring and feminization of male offspring [Stephanie Pappas, "Gene Regulation May Explain How Homosexuality Flourishes,"

Live Science

,

https://www.livescience.com/25431-gene-regulation-homosexuality.html

, December 11, 2012 (accessed 3/22/2021)].

[22]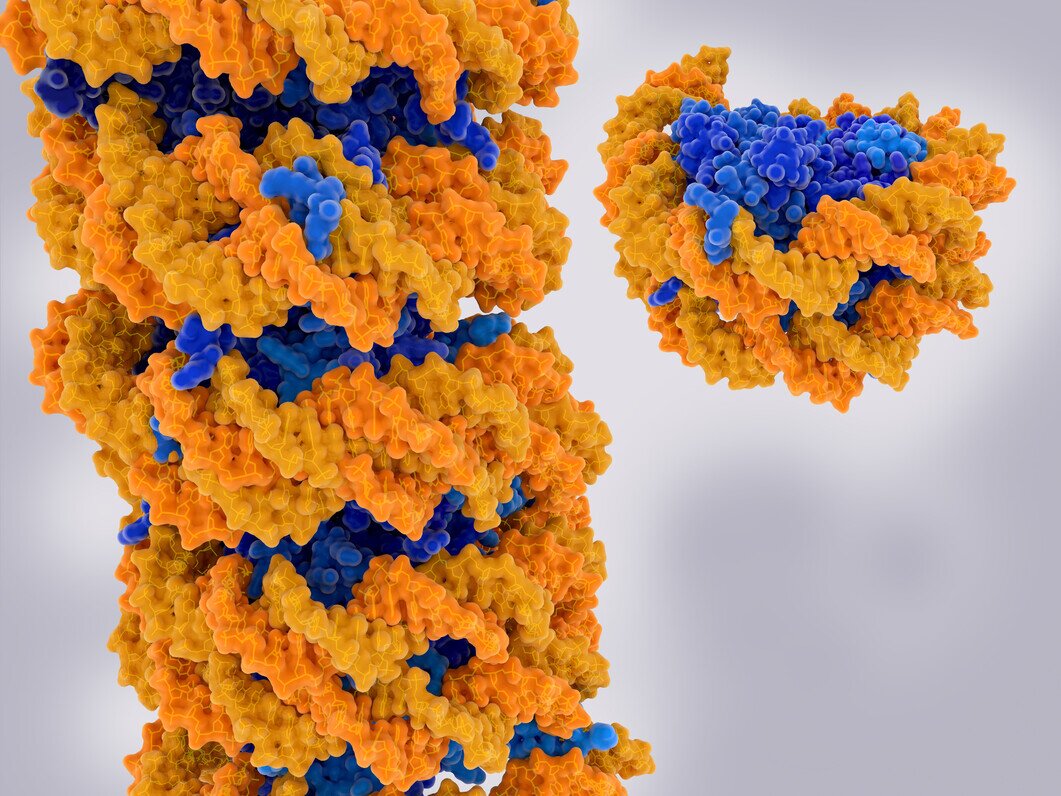 Figure 1: DNA molecule (orange) wrapped around histones (blue)
Social stigma? I prefer calling it self–centered fear of the consequences for being politically incorrect. I call it
false and/or biological compassion
(more on that topic later). So much for the unbiased pursuit of scientific truth. I'm not so much blaming scientists as I am a culture and government that is increasingly willing to sacrifice truth on the altar of social and political agenda.
Our brothers and sisters who have been burdened with this heavy cross (i.e., SSA) are owed all the love and support we can muster. The weight of their cross would be hard for anyone, including me, to bear. I admire and support those who take up that cross and bear because it is the right thing to do.
However, love and support
cannot
take the form of approval, acceptance, or promotion of any behavior that may proceed from the predisposition. I admire and support the person given the heavy cross of bipolar disorder. Still, I won't say that I accept "normalize" the consequence–laden and destructive behavior that flows from it. I admire and support the person given the heavy cross of drug addiction. Still, I won't accept or "normalize" the consequence–laden and destructive behavior that flows from it. I admire and support the person given the heavy cross of sexual addiction. Still, I won't say that I accept "normalize" the consequence–laden and destructive behavior that flows from it.
Suicide rates are higher among those carrying the heavy cross of mental illness, but do we tell them that suicide is OK and that it's God's will that they carry it out? NO!! Likewise, we cannot consent to the lie that homosexuality is God's will and, therefore, acceptable for one to act upon. Doing so would lead to the logical conclusion that God is inconsistent at best and schizophrenic at worst.
Pastoral Considerations
There are several passages in Scripture that inform us of the necessity to speak the truth in love to those who are obstinate sinners. Here is just one example:
"So you, son of man, I have made a watchman for the house of Israel. Whenever you hear a word from my mouth, you shall give them warning from me. If I say to the wicked, O wicked one, you shall surely die, and you do not speak to warn the wicked to turn from his way, that wicked person shall die in his iniquity, but his blood I will require at your hand. But if you warn the wicked to turn from his way, and he does not turn from his way, that person shall die in his iniquity, but you will have delivered your soul." (Ez. 33:7-9)? In reading these passages, note the dire consequences for remaining silent. Also, remember the Scripture passage that tells us, "Do not rebuke an older man but encourage him as you would a father, younger men
as
brothers, older women as mothers, younger women as sisters, in all purity" (1 Tim 5:1-2). Speak Truth in Love.
The word "speak" should be understood in a more comprehensive theological/scriptural context. We not only speak words, but we also speak with our actions and behaviors. In Luke, we read, "
A good man brings good things out of the good stored up in his heart, and an evil man brings evil things out of the evil stored up in his heart. For the mouth speaks what the heart is full of" (Lk 6:45). While the Truth never changes, whether we speak it and how we speak, it does.
It is deplorable that homosexual persons have been and are the object of violent malice in speech or in action. Such treatment deserves condemnation from the Church's pastors wherever it occurs. It reveals a kind of disregard for others which endangers the most fundamental principles of a healthy society. The intrinsic dignity of each person must always be respected in word, in action and in law.
But the proper reaction to crimes committed against homosexual persons should not be to claim that the homosexual condition is not disordered. When such a claim is made and when homosexual activity is consequently condoned, or when civil legislation is introduced to protect behavior to which no one has any conceivable right, neither the Church nor society at large should be surprised when other distorted notions and practices gain ground, and irrational and violent reactions increase.

[26]
We must always be aware that the SSA person did
not
choose the epigenetically–driven predisposition toward disordered sexual attraction. Likewise, the child of alcoholic parent(s) did not choose to be predisposed to alcoholism or some other related compulsive behavior. The only thing such a person can choose is how they respond to the resulting biological urges. We would never consider counseling such people living in our society that it is morally OK to engage in such epigenetically–driven behavior. The free will of these individuals is not taken away from them due to the heavy weight of epigenetic–based crosses. St. Paul described our journey to Heaven as a race. With the help of grace, each can finish the race. However, epigenetic hardships can act as ankle weights that make it harder to finish the race — facilitating easier and more frequent falls. Some may have to carry two–pound ankle weights — some, ten–pound ankle weights, and so forth. None will have to carry so heavy a set of weights that they cannot finish the race. However, we can strap on more — and heavier — ankle weights of our own free will by giving in to addictive predispositions. That is how we become slaves to our sins. However, if one sincerely asks Jesus to help him with the gift of grace after every fall, we will always finish the race, even if Jesus has to pick us up and carries us across the finish line.
Many moderns have embraced an

autonomous

view of reality: 'I can do what I want as long as it doesn't hurt anyone else.' Others embrace a moralism [called

heteronomous

] … which turns venomous when it vilifies and demonizes. … Pope John Paul II, in his encyclical Veritatis Splendor (art. 41), distinguishes the Catholic moral outlook from these two erroneous positions [i.e., autonomous and heteronomous]. He labels the Catholic view a 'participated theonomy.' If for autonomy there is no law, and if for heteronomy the law is to be followed because God said so, for participated theonomy the moral law is something friendly to our being, something built for our genuine fulfillment and for our authentic freedom. The law is not true because God commanded it; rather, God commands it because it is true. When we use our free will to align our lives with this truth, we possess authentic freedom.

[27]

[We must never forget that all people, including those with SSA, are

persons

created in the image and likeness of a God who loves each one of them infinitely — SML].
What does this mean for the discussion on homosexuality? It means that the truth about human sexuality is something that ultimately offers genuine freedom to the homosexual person, helping him to escape the

slavery to his passions [emphasis SML]

that resulted from the misuse of his free will. This is a truth that, with true compassion [

as opposed to biological/false compassion — SML

], reaches out to the homosexual person in his desperation. Although that person may not be aware of it, he is crying out for the truth. When the response from our culture is heteronomous and mean–spirited, he recoils, and takes false comfort in a worldview that espouses autonomy. The Church and society must offer the truth, and offer it in the right way, the way of participatory theonomy. It won't do to start with a good logical argument, using the data of reason and revelation. Such arguments will occupy a central position in the overall Catholic approach, this article included, but only after a compassionate pastoral approach has laid the proper foundation. [We must avoid as much as charitably possible what] Frank Sheed said somewhere, 'Win an argument, lose a convert.'

[28]
There is no evidence whatsoever that homosexuality is caused genetically [not to be confused with epigenetically, for which there is a good bit of scientific evidence], though there could be a genetic predisposition toward homosexuality. As Christopher Wolfe has noted, '. . . if [homosexuality] really were [genetically hardwired], it would have almost certainly died out, or at least be continually declining. Homosexuals reproduce at much lower levels than the general population . . . . So if homosexuality were a [hardwired] genetic trait . . . it would be found in a smaller and smaller percentage of the population.' And, '. . . if homosexuality were [genetically hardwired], then in all sets of identical [

monozygotic-SML

] twins where one was homosexual, the other would be, too.' [Jeffrey Satinover,

Homosexuality and the Politics of Truth

, (Grand Rapids: Baker, 1996), 51–54] On the other hand, one cannot prove that the orientation is caused environmentally, but all the evidence points in that direction. [Jeffrey Satinover, "The Biology of Homosexuality: Science or Politics?" ed Christopher Wolfe,

Homosexuality and American Public Life

(Dallas: Spence, 1999), 3–61].

[30]
False/Misguided Compassion
An example of this wrong–headed thinking is the Pharisees at the time of Jesus. Full of self–centered pride, the Pharisees believed they were essential to preserving Judaism from false prophets. Because of their sinful pride, they didn't listen to what Jesus was saying and doing. Their pride blinded them to the fact they were misinterpreting the words of Scripture about the promised Messiah. Their pride blinded them to Truth. So, out of their false
compassion
(
and
their desire for power and adulation) for the nation of Israel, they had the True Messiah killed. From a biological standpoint, if the heart
believes
it is good (i.e.,
apparent
good instead of
real
good), it will cause the body to reward itself in the form of chemical (hormonal)
rewards
.
I, _____, take you, _____, for my

lawful

wife/husband

spouse, to have and to hold

from this day forward

for as long as you make me feel good, for better,

for worse

, for richer,

for poorer

,

in sickness

and

in health, and in full employment, until

death do us part

someone else who is more beautiful makes me feel even better than you do. I will love and honor you

all the

many days of my life.
What is morally good or evil is what we do on the basis of, or under the influence of, a given passion. But when passions are aroused or sought, and as a result we perform evil acts, the evil lies in the decision to fuel them and in the evil acts that result. Along the same lines, my being attracted to someone is not automatically good. If my attraction to that person makes me try to dominate him or her, then my feeling only serves my selfishness. To believe that we are good simply because 'we feel good' [

a product of biology — SML

] is a tremendous illusion. There are those who feel themselves capable of great love only because they have a great need for affection, yet they prove incapable of the effort needed to bring [

True — SML

] happiness to others. They remain caught up in their own needs and desires. In such cases, emotions distract from the highest values and conceal a self-centeredness that makes it impossible to develop a healthy and happy family life.

[35]
Biological
compassion
and biological
love
are closely related. Both are opposite sides of the same coin. When grounded in God's laws and of created nature, both are ordered to the laws God has written within the heart of every person, written in the spirit — i.e., the higher powers of the soul — of each person. As was said earlier, disobeying God's laws will inevitably lead to spiritual blindness and a disordered body/soul existence. When we allow our chemically produced feelings to be the determinant of what constitutes good and evil, we have set the stage for our own misery and self–destruction. Nowhere is this truer than in the area of lust of the flesh.
About three or four years ago, I had a dream. I can't tell you with any certainty whether or not it was a prophetic dream from God. All I can say is that it was a powerful dream, the memory of which has never faded. In the dream, I was imprisoned in the house of a man who clearly loved to watch people committing sexual sins. Pornographic programming was playing on his TV. He was amused by what he was viewing but not aroused by it. I believe that man was Satan or a demon in human form (cf. 1 Peter 5:8). Then I saw another man on the ground being eaten by a lion. The strange thing was
how
the lion was eating the man. It wasn't eating the man in the same manner as lions typically do (i.e., by ripping apart the victim's flesh). Instead, it was eating the man in the exact same way as a snake would eat its prey. I observed that the man had been consumed all the way up to his armpits. That would equate to about eighty percent of his body already consumed. The human prey was not fighting, screaming, crying, etc. It was as though he had no idea what was happening to him. I believe that man was a collective representation of all humanity, but most especially men.
This dream represents the great danger of biological compassion/love when entirely severed from the True Source of spiritual compassion/love. Through biologically–induced false love/compassion, we engorge ourselves with the sweet poison that is the lust of the flesh. We make ourselves prey to satisfy the insatiable appetite of Satan for souls to destroy. The sweetness of sin intoxicates us; we don't even recognize or care about our fate. We
feel
full of life when in truth, we are on the precipice of death. I have often said the most lethal power of man in his fallen state is the ability to rationalize as being good, compassionate, and loving that which the human heart desires. Unfortunately, that is true even if that which is desired is a horrendous evil. Let us take a look at some examples.
[Quoting] "Jeffrey Levi, former executive director for the National Gay and Lesbian Task Force, 'We [homosexuals] are no longer seeking just a right to privacy and a right to protection from wrong. We have a right—as heterosexuals have already—to see government and society affirm our lives.' Homosexual author Urvashi Vaid declared, 'We have an agenda to create a society in which homosexuality is regarded as healthy, natural, and normal. To me that is the most important agenda item [Quoted in Gabriel Rotello,

Sexual Ecology: AIDS and the Destiny of Gay Men

, (New York: Penguin Books, 1997), 286].' Paula Ettelbrick, former legal director of the Lambda Legal Defense and Education Fund, stated: 'Being queer means pushing the parameters of sex, sexuality, and family, and. . . transforming the very fabric of society. . . . We must keep our eyes on the goals of providing true alternatives to marriage and of radically reordering society's view of reality [Quoted in

Since When Is Marriage a Path to Liberation?

in Lesbians, Gay Men, and the Law, ed. William B. Rubenstein (New York: New Press, 1993), 398, 400.].'"

[38]
We are now standing in the face of the greatest historical confrontation humanity has ever experienced. I do not think that the wide circle of the American Society, or the whole wide circle of the Christian Community realize this fully. We are now facing the final confrontation between the Church and the anti-church, between the gospel and the anti-gospel, between Christ and the antichrist. The confrontation lies within the plans of Divine Providence. It is, therefore, in God

'

s Plan, and it must be a trial which the Church must take up, and face courageously

[Cardinal Karol Wojtyla (John Paul II), reprinted November 9, 1978, issue of

The Wall Street Journal

from a 1976 speech to the American Bishops].

[41]
For many others, baptism is primarily a rite of initiation into the Christian community, by which a person becomes a member of the "one body" of Christ (1 Corinthians 12:13). However, when we look at the mystery of baptism in the light of everything we've learned about Jesus the Bridegroom, another meaning emerges. If Jesus is the Bridegroom and the Church is his bride, then Christian baptism is more than just a sign of repentance, an ordinance, or a ritual of initiation; it is the bridal bath by which Jesus cleanses us from sin so that we can be united to God.

[42]
Every Celebration [of the Eucharist] is a celebration of Marriage; the Church's nuptials are celebrated. The King's Son is about to marry a wife, and the King's Son [is] himself a King; and the guests frequenting the marriage are themselves the Bride.… For all the Church is Christ's Bride, of which the beginning and first-fruits is the Flesh of Christ, because there was the Bride joined to the Bridegroom in the flesh. (Augustine, Homilies on 1 John 2:12–17).
In other words, in the Eucharistic "marriage celebration" (Latin

nuptiarum celebratio

), Jesus the Bridegroom is united to the Church, not just in spirit, but in body as well. For while Jesus, as the divine Son of God, is spiritually present everywhere, in the Eucharist he is present bodily: it is the wedding banquet at which the Bridegroom Messiah is united to his bride in both body and spirit.

[43]
Habitual moral failure, however, can be lived with only by obliterating conscience through a more permanent rationalization, an enduring inversion of morality. It is often difficult to detect rationalizations when one is living directly under their influence, and so historical examples are useful. One of the clearest was offered at the Nuremberg trials by Dr. Karl Brandt, Adolf Hitler's personal physician, who had been in charge of the Nazi regime's Aktion T-4 euthanasia program to eliminate "life unworthy of life". He said in his defense: "When I said 'yes' to euthanasia I did so with the deepest conviction, just as it is my conviction today, that it was right. Death can mean deliverance. Death is life." [In other words, euthanasia is

biological compassion

put into practice — SML]. …The purpose of this analogy is not to suggest that homosexual acts are in any way comparable to the evil of euthanasia, but to illustrate the enormous power that rationalization can exercise over those whose consciences it corrupts. …
Perhaps a more immediately apt analogy to this kind of rationalization is the practice and justification of abortion, itself a product of the sexual revolution, which is equally expansive in its claims upon society. The internal logic of abortion requires the spread of death from the unborn to the nearly born, and then to the infirm and [then] to otherwise burdensome individuals. …
Like Dr. Brandt, if you are going to kill innocent persons, you had better convince yourself and others that it is right, that you do it out of

compassion

[

emphasis SML

]. Thus, Beverly Harrison, a professor of Christian ethics at Union Theological Seminary, contends that abortion is a "positive good" and even a "loving choice." …during a US Senate debate, Senator Barbara Boxer assured her colleagues that mothers who have aborted their children by this means "buried those babies with love." If abortion is love, then, indeed, as Dr. Brandt said, "death is life."

[46]
'Daughter, pride is a very serious sin.' …

This does not mean we concede to evil.

'I say this to all my children: God does not want you to humble yourselves before the enemy, nor does He want you to be destroyed by him, but for you to face up to him,' she said dramatically on August 30, 1984. 'Fear nothing, because the Lord goes in front to each battle. May your will not shrink; be strong because you have the Presence of the Almighty.'

[47]
[I]t is widely recognized and accepted, even within homosexual advocacy circles, that homosexuals do have a

-

greater incidence of mental illness, particularly depression and suicide, than do heterosexuals. Activists quickly explain that this connection implies neither a necessary psychological nor a necessary biological link between homosexuality and depression. They argue, rather, that suicidal depression is the unsurprising effect on otherwise healthy individuals of living a closeted existence in an abusive and hostile society.

Similar arguments have been made before

-

. It has long been obvious, for instance, that parental divorce is associated with both severe distress and behavioral problems among children. But in the 1970s the divorce industry argued that it was the social stigma attached to divorce that caused children's distress, not divorce itself. If divorce were normalized, they claimed, the children could walk away unscathed. Indeed, children would be helped by divorce, for they would not suffer the trauma of being reared and cared for by less-than-totally-personally-fulfilled parents.
Until recently, no scientific studies were available to

prove

what has been painfully obvious to everyone, but science has finally caught up with experience and common sense. Numerous studies now confirm that divorce inflicts lifelong damage on children, far greater than that caused by parental unhappiness. Even divorce experts are beginning to withdraw their earlier claims [D. W. Whitehead, "Dan Quayle Was Right,"

The Atlantic Monthly 271

, no. 4: 47-84,

https://www.theatlantic.com/magazine/archive/1993/04/dan-quayle-was-right/307015/]

.

[48]
From May 1989 through April 1990, 1001 adult homosexual and bisexual men attending sexually transmitted disease clinics were interviewed regarding potentially abusive sexual contacts during childhood and adolescence. Thirty-seven percent of participants reported they had been encouraged or forced to have sexual contact before age 19 with an older or more powerful partner; 94 percent occurred with men. Median age of the participant at first contact was 10; median age difference between partners was 11 years. Fifty-one percent involved use

of force; 33 percent involved anal sex. Black and Hispanic

men were more likely than white men to report such sexual contact.

Using developmentally based criteria to define sexual abuse, 93 percent of participants reporting sexual contact with an older or more powerful partner were classified as sexually abused. Our data suggest the risk of sexual abuse may be high among some male youth and increased attention should be devoted to prevention as well as early identification and treatment [

Doll LS, Joy D, Bartholow BN, Harrison JS, Bolan G, Douglas JM, Saltzman LE, Moss PM, Delgado W. Self-reported childhood and adolescent sexual abuse among adult homosexual bisexual men

.

Child Abuse Negl

. 1992 Nov-Dec;16(6):855-64. doi: 10.1016/0145-2134(92)90087-8. PMID: 1486514

].

[51]
The association between perpetration of sexual abuse and the offender's own victimization as a child has been well documented in the literature. Various researchers have examined this relationship by assessing the exclusiveness of the sexual abuser's behavior, the gender of his victims and the gender of his own childhood abuser. . . . Subjects were 135 pedophiles. . . who admitted to their offenses. A total of 42 percent of pedophiles . . . reported being sexually victimized in their own childhoods. . . . [and] appear to choose their age specific victims in accordance with the age of their own experience of sexual victimization. Although the cause of child molestation remains undetermined these results support social learning and modeling theories [

Greenberg DM, Bradford JM, Curry S. A comparison of sexual victimization in the childhoods of pedophiles and hebephiles.

J Forensic Sci

. 1993 Mar;38(2):432-6. PMID: 8455000

].

[52]
Updated 05/24/2021
Journal Source:

Zenk F, Loeser E, Schiavo R, Kilpert F, Bogdanovic O, Iovino N. "Germ line–inherited H3K27me3 restricts enhancer function during maternal–to–zygotic transition," Science, Vol. 357, Issue 6347, pp. 212–216; July 14th, 2017 DOI: 10.1126/science.aam5339.
Journal Source

: L. J. Gaydos, W. Wang, S. Strome."H3K27me and PRC2 transmit a memory of repression across generations and during development."

Science

, 2014; 345 (6203): 1515 DOI:10.1126/science.1255023.